Massage Chairs
Restworks can equip your office with top, warranty approved commercial massage chairs. Each of our products represents the state of the art when it comes to massage chair technology. Explore our solutions here.
Our Solutions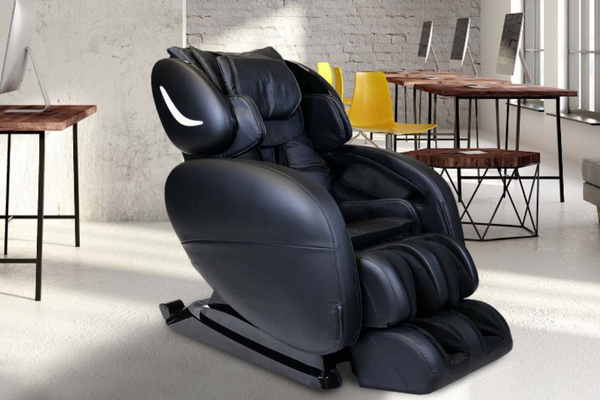 Infinity Massage Chair
The Infinity massage chair puts convenience and targeted massage therapy in the comfort of your own space.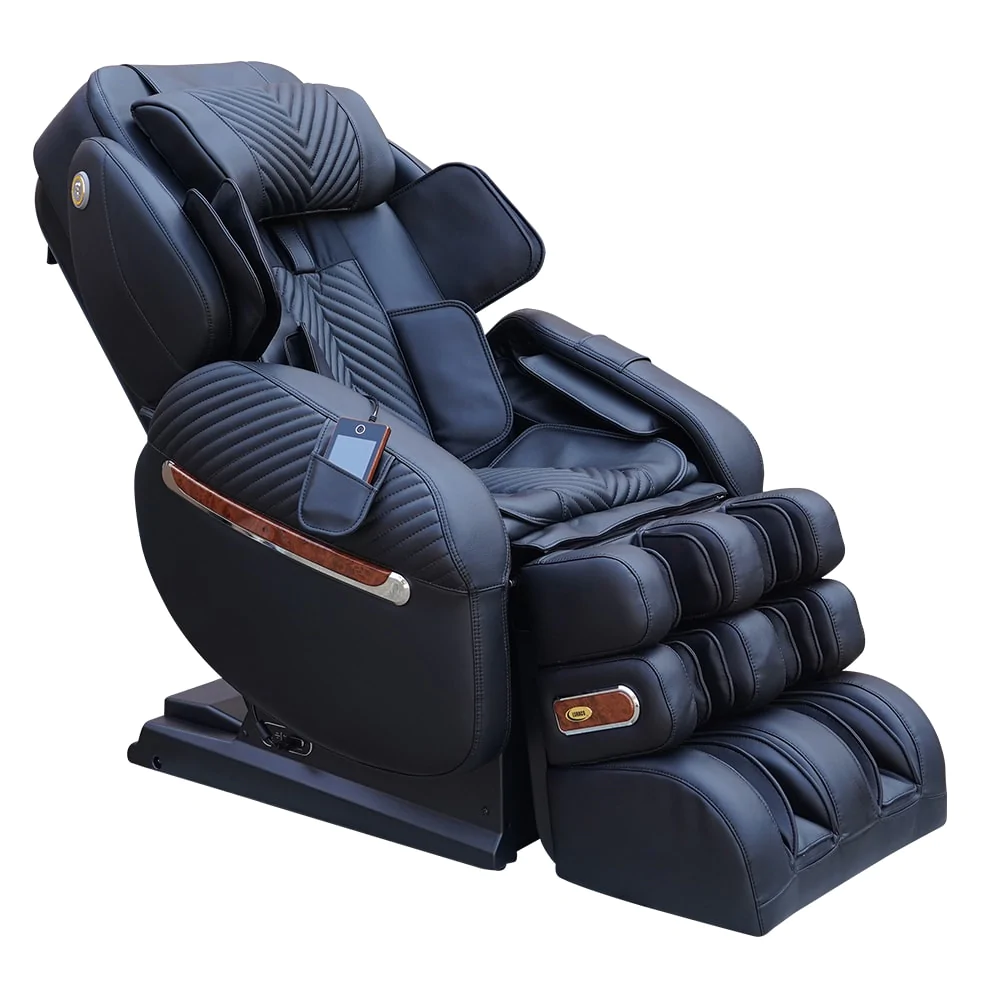 Luraco i9 Max Massage Chair
The latest in a line of superior massage chairs, the i9 Max delivers the ultimate experience in a medical massage chair.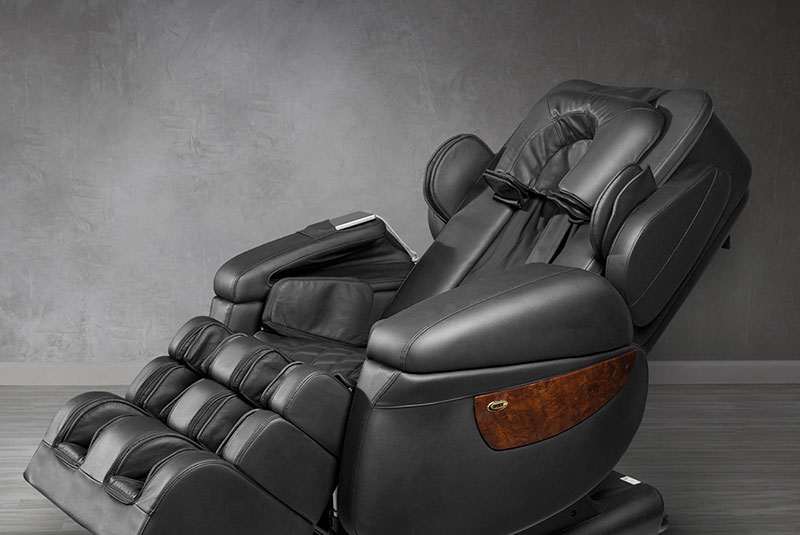 Luraco Plus Massage Chair
The Luraco Plus massage chair is an effective and durable solution for pain and stress relief in the workplace.
Why buy an office massage chair?
These years we are seeing a dramatic increase in the demand for massage chairs at the work place, fitness centers, and even in people's homes. To understand this increase in popularity, one merely has to look at the state of health within the general population.
The number of people under age 50 complaining of back pain (especially lower back pain) has never been higher. Scientists estimate that 50 percent of the working population in the United States have back pain every year. As it turns out, massage chairs can be a great tool to prevent this.
Benefits
Years of research into the effects of massage chairs on our bodies clearly show that regular use can positively affect our health. Some of the benefits include:
Overall reduced cortisol (stress hormone) levels
Less frequent muscle pain (especially lower back pain)
Strengthened immune system
Better sleep quality
Improved focus and alertness
Reduced anxiety and depression
Increased blood circulation
Improved muscle oxygenation
These and other benefits have been confirmed by numerous studies, such as those conducted by The University of Miami and Arizona State University.
Massage chairs at the workplace
Not all businesses are able to accommodate a professional massage therapist, but can a massage chair serve as worthy replacement material?
The science on the matter is clear — a massage chair is a good solution. Studies conducted by Saint Mary's University in Canada, Gwen E. Jones from Fairleigh Dickinson University, and massage therapist Bodhi G Haraldsson prove that the regulated use of chair massage positively impacts work comfort, as well as the overall mood of the employee.
Studies show that it only takes 10-15 minutes of massage a day to feel real benefits, such as reduced stress levels and more relaxed muscles. Furthermore, subjects who used a massage chair at their workplace turned out to be more productive than those who did not.
Best massage chair for office
When it comes to massagers with commercial warranties, one of the most versatile and cost-effective in the industry is the Luraco i7 Plus.
Restworks offers the Luraco i7 Plus for B2B sale with a fair price, commercial warranty, and professional service (we take care of the entire installation process). We also offer zero gravity recliner chairs and nap pods. The Food and Drug Administration (FDA) has classified this full body massage chair as a medical device. Moreover, Luraco i7 Plus is the winner of the "Top Medical Massage Chair" category of the Aesthetic Everything Awards 2019. This product features technologies such as:
Zero Gravity
3D Massage
Noise Reduction
Health Monitoring
L-Track (Warming massage from the upper back down to the glutes and thighs)
With the extensive material customization options and sensor technology, virtually anyone will benefit from the Luraco i7 Plus massage chair. It is one of the safest product on the market, especially if it is used regularly by multiple people.
History and evolution of the massage chair
The history of the massage chair began in a place with a highly developed massage culture —Japan. That's where Nobuo Fujimoto invented the first product of its kind in the 60's. This was a simple wooden chair with a leather seat and two small wheels that moved up and down. Since the 60's, this type of chair has evolved dramatically.
At present, massage chairs are available worldwide and significantly developed in terms of design, comfort and technology. These days they tend to be exclusively leather products and to feature a foot roller as well as shoulders arms applications and zero gravity technology. Some manufacturers also allow the costumer to choose the chair's color and even grade of leather material used in the production.
How does a massage chair work?
A massage chair uses many different techniques to provide a thorough, comprehensive massage experience. You can use the pre-programmed options or choose your favorite method of treatment. Many full body chairs also come with a foot roller. The option for heat is another great feature because it helps soothe muscles and enhances blood flow.
High tech features that you might not find in all massagers including programmable time settings, ergonomic designs made just for comfort, zero gravity position and adjustable angles depending on what part of the body needs attention most, etc., but this differs from chair to chair.
All the different technological options allow you to customize each massage based on how much pressure you need as well as where you're feeling pain at the time; making sure every aspect of your personal happiness is taken care of. Nowadays there's even technology like Bluetooth that allows chairs to connect with other devices like your phone or tablet. In this way you can play music, track the time and much more.
Zero gravity chairs
When it comes to the latest technology, Zero Gravity is making a giant foray into the world of massage chairs. This is a technology developed by NASA to find the optimal position for astronauts when launching them into space.
Zero Gravity allow us to achieve the feeling of weightlessness by tilting us back, positioning the seat at a 30-degree angle, and raising our legs, bent at the knees at 110 degrees to heart height — all that by the touch of a single button.
This position aims to minimize overall pressure and weight on the body, which can help with spinal injuries.
Massage chair pricing
A massage chair is a real investment in the health and well-being of your employees at a relatively modest cost. It will bring you the real massage experience which has multiple health benefits such as lower stress levels and the release of back pain.
To view the price of our commercial massage chairs and other sleep technology, please have a look at the individual product page and click on your appropriate flag.
Feel also free to also have a look at the other Restworks solutions that are used by companies such as Google, Intel and health service organizations around the world.