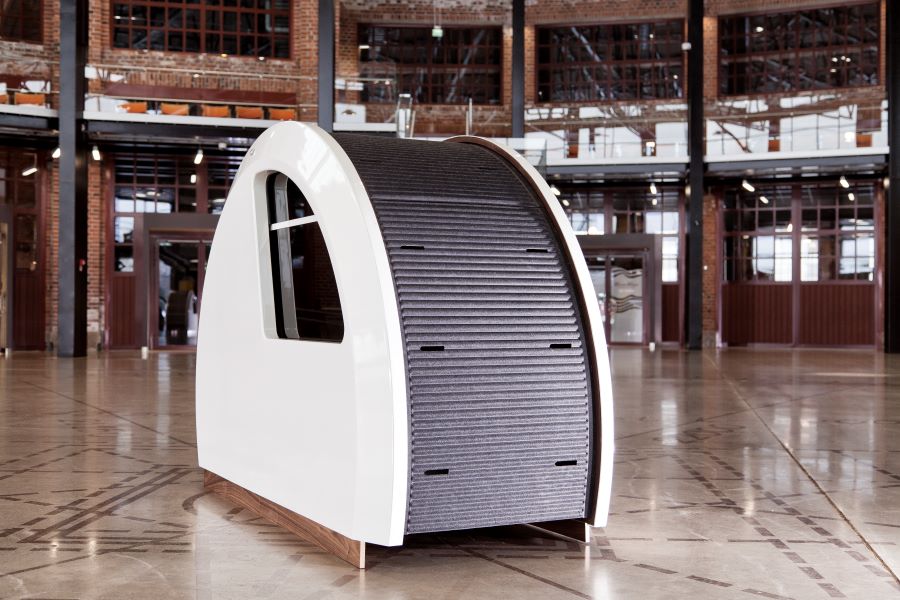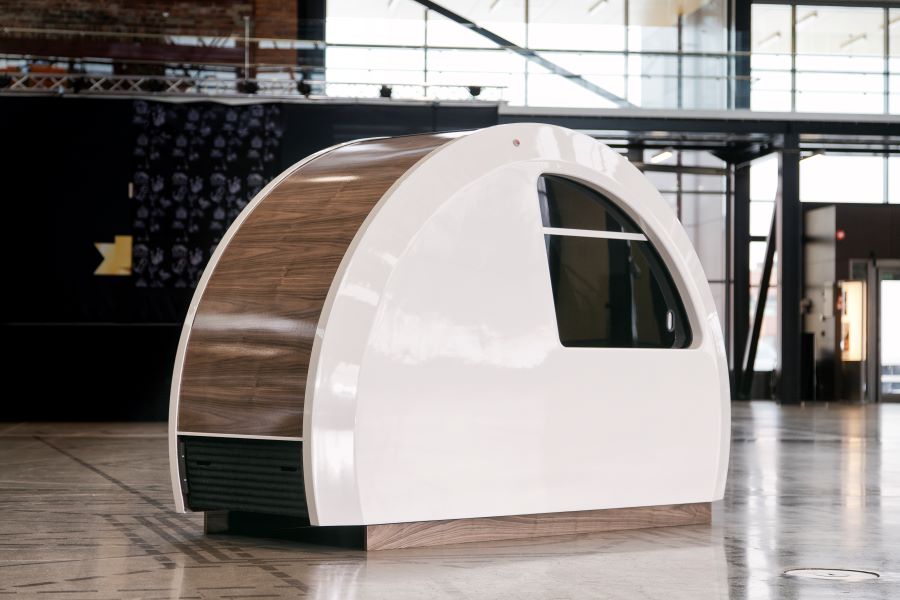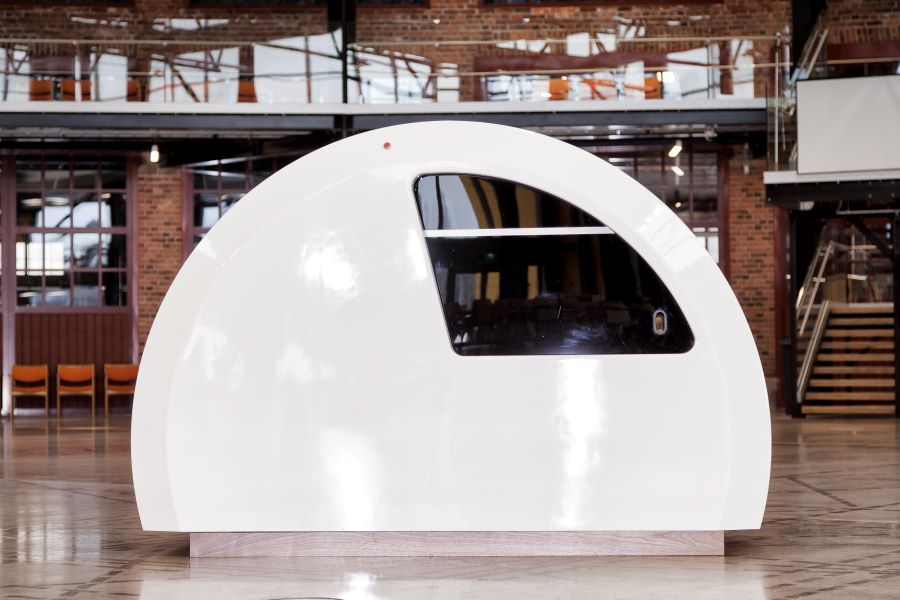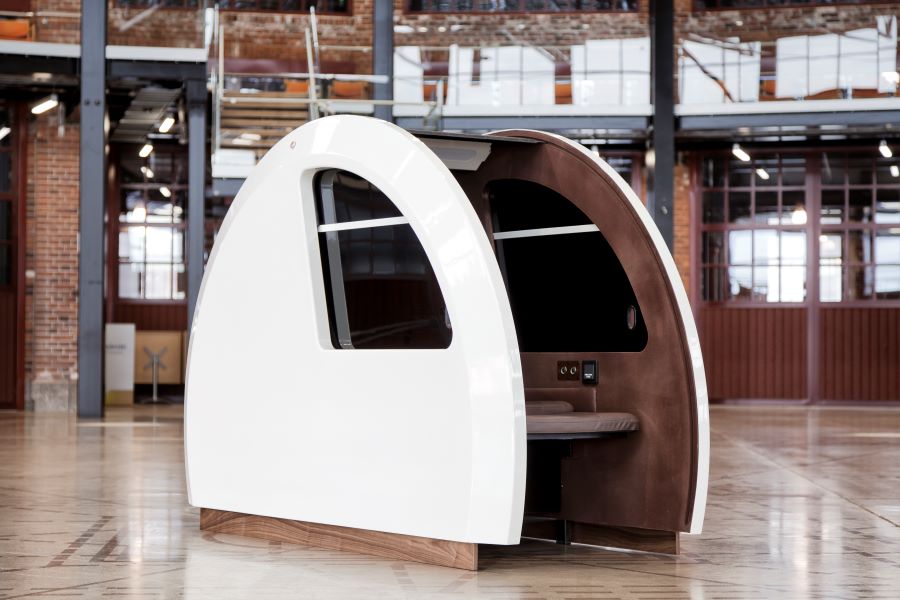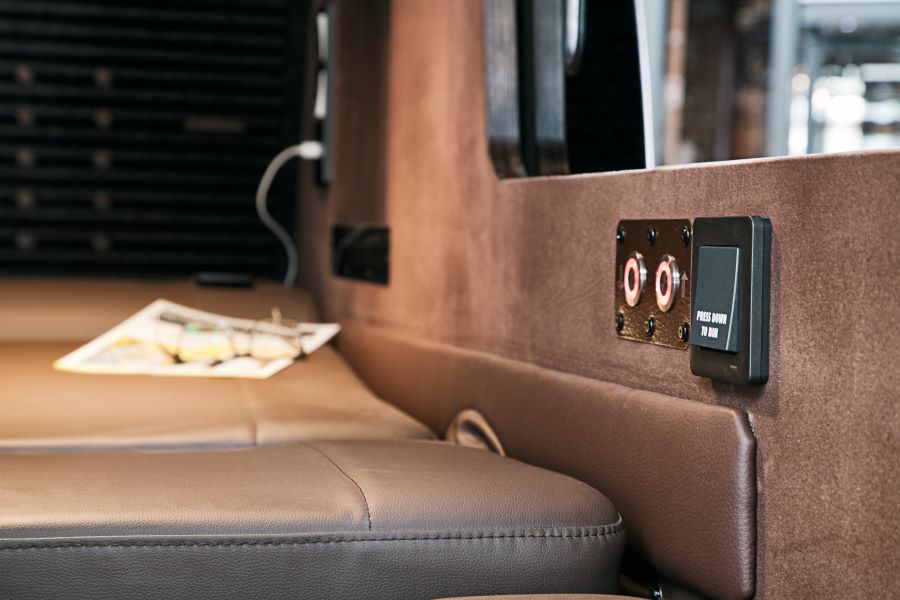 GoSleep Iglooo
The GoSleep Iglooo can be used for both work and rest. A comfortable and versatile sleep pod.
The GoSleep Iglooo is a versatile power nap pod with multiple functions.
In work mode, the comfortable seating and fold out laptop table makes for an efficient workstation. Power ports allow for charging of personal devices.
In rest mode, the seat reclines to a fully horizontal position, allowing the user to nap or sleep. In either mode, the sleep pod features side shaded windows that can easily be opened and closed, a convenient storage compartment and more.
VIEW ALSO: RESTWORKS POWER NAP APP
GoSleep Iglooo Features
FOLDING WORK SURFACE – The GoSleep Iglooo allows for a horizontal position.
ENCLOSED PRIVACY – The screen slides easily into position and provides privacy and security.
AIR CIRCULATION – The screen's design ensures good air circulation and a pleasant temperature. The material is soft and supple.
SAFE STORAGE – Lift the seat to store belongings in the compartment below. There is ample space for a briefcase, handbag, or backpack.
USB CHARGER – The Iglooo has a USB charging port and a power outlet, so laptops and mobile phones can be charged.
Specifications
| | |
| --- | --- |
| Height (H) | 152cm / 59.8in |
| Width (W) | 97cm / 38.2in |
| Length (L) | 230cm / 90.5in |
One (1) standard power outlet, 120V. Max. draw of 100 WATTS.
About GoSleep sleeping pods
Originating in Finland, GoSleep has a mission to make air travel, study and office work more comfortable. Please note that this company is different from the GoSleep USA company known for the GoSleep mask and the GoSleep travel pillow.
Here at Restworks, we are proud to be distributors of the GoSleep sleeping pods, which serves airports, sports teams, hospitals and offices across the globe.
Get your GoSleep sleeping pod today!
A GoSleep Pod is a solid investment in health and wellbeing, as well as an attractive perk to employees. Whether you are looking to upgrade your airport lounge, boost productivity at the workplace, or improve athletic performance, the GoSleep Iglooo can be a viable sleep technology solution.
Restworks has distributor rights to the GoSleep sleeping pods in the US. If you have any inquiries about the product or wish to make a purchase, please contact us. We will be happy to assist you.
Availability & Pricing
Please select a flag at the sidebar.