Power Nap App
Restworks Power Nap App is available in App Store and Google Play.
The Power Nap App from Restworks helps you power nap and sleep effectively. It combines audio sessions from the world's leading providers, as well as tips and tools to support good habits for more restful sleep.


In-application purchases are available for additional audio content and support. The nap app can be used as a standalone application, or as part of a Restworks corporate solutions program, for example with one of our nap pods or other sleep technology. A sleep app based on meticulous research and years of experience.
What's in our power nap app?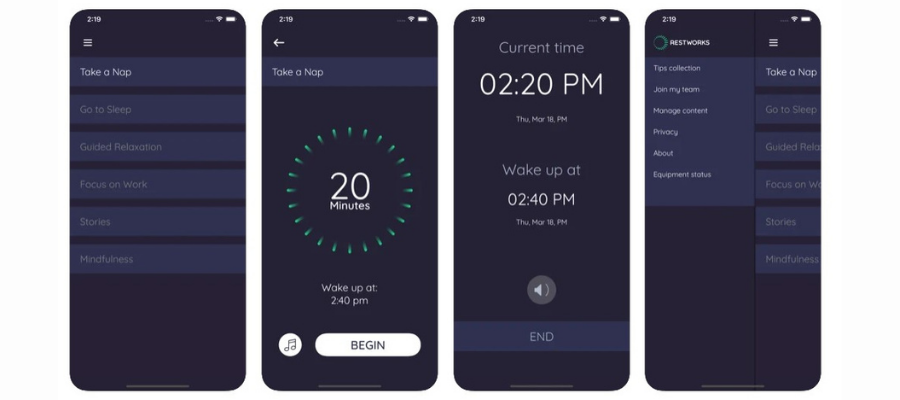 In the Restworks App you will find an intuitive power nap timer going up to 90 minutes and a range of professionally composed high quality audio tracks for specific purposes. Choose between:
Take a nap – Relaxing music for short power naps
Go to sleep – Light music designed to accompany longer periods of sleep
Guided relaxation – Unwind your mind and muscles with a gradual guided relaxation
Focus on Work – Music designed to eliminate outside distraction and attain better focus
Stories – Beautiful stories to help you fall asleep faster
Mindfulness – Guided mindfulness sessions up to 90 minutes long
Pleasant alarm sounds will guide you out of your session. Enjoy using our universal app for power naps, new energy, and relaxing music to promote performance.
Please note – Only the 'take a nap' tracks are available in the free plan. If your company is a customer of Restworks, please contact us for a team code which can unlock additional content.
Availability & Pricing
Please select a flag at the sidebar.